Shortbread is one of my Mum's best recipes but I was inspired by the recent pepper challenge to try making it with pepper. Why on earth? Well pepper and strawberries has become one of those slightly off beat but accepted combinations which don't work but do, like chilli and chocolate or salt with caramel. I was trying to think of how to combine strawberries and pepper and the idea of a buttery shortbread biscuit popped into my head so that's where the inspiration came from, now it's time to test out whether it works!
A gentle criticism on my last post was the
donut burger
would be ideal post break up food. Forget that, this is the post breakup food. A combination of gently spiced shortbread with peppered strawberries and silky cream. It's what Sunday teas are all about. I, however, was lucky enough to not suffer heartbreak today but I did spend 3 hours Christmas shopping in my local city centre. That, is a long time for me (I hate crowds) but I was helped on my way by the most fantastic food festival I stumbled across. I ate the most delicious curry goat spiced with turmeric which stained my fingers, delicious cinnamon and chilli which burned on for a good half an hour. Fantastic. But even the best curry goat is not enough to sustain you through the early Christmas shopping crowds. It's not a surprise that internet shopping is so popular.
I have to admit I've artfully placed two delicate squares of shortbread on the plate for the photo but once taken, I piled on a few more. Sorry but needs must. You should have seen the madness in Primark!
Peppered Strawberries with Cream and Peppered Shortbread
- Serves 1 with leftover shortbread (keeps well in a tin)
Ingredients
For the shortbread (use grams or ounces, they both work but aren't interchangeable).
50g, 2oz Butter
50g, 2oz Caster (superfine) sugar plus more for sprinkling
50g, 2oz Plain (all purpose) flour
25g, 1oz Ground rice
A large pinch - 1/4 tsp freshly ground black pepper
For the strawberries
A large handful of strawberries
1/2 tsp sugar (optional)
A pinch of black pepper (optional)
A large glug of double (heavy) cream
Method
Preheat the oven to 200oC, 400F, Gas Mark 6.
Blend all of the shortbread ingredients in a food processor. Line a baking dish with baking paper, chose one approx 8 inch by 8 inch (20 x 20cm). Press the crumbs into the baking dish.
Bake for 10 - 15 minutes or until browning at the edges.
Take out of the oven, score into squares, lift out the paper (carefully) and put onto a cooling rack, sprinkle with a little extra sugar. Leave to cool for as long as you can resist.
In the meantime, whip some cream and prepare some strawberries. If, like at this time of year you have hothouse strawberries, add a little sugar, also add a couple of twists of pepper, if liked.
Serve.
I was inspired to make this by two challenges currently going ahead on two different blogs about
sugar and spice
in Lavender and Lovage and Pepper for
The Spice Trail
from Bangers and Mash.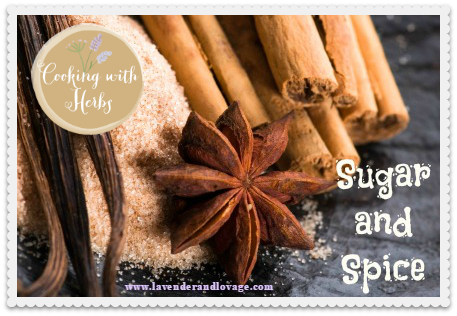 I hope you enjoy my lovely peppered strawberries and spiced shortbread.